That's right, fellow fanpeople! I am returning to the happiest place on earth for my 2nd trip in 8 or so years. I've got a bucket list to share, and you better believe I'm gonna try to do this in 3 days.
#1 Try A Dole Whip
Pretty much every Disney Blog sings the praises of the Dole Pineapple Whip, a combination of pineapple slush and vanilla ice cream. You can get them at the Tiki Room snack bar. I love pineapples, so this is a big deal for me!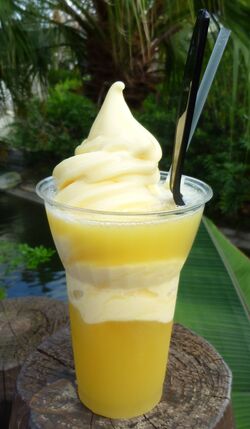 #2 Meet Captain America
This one's pretty self-explanatory. I LOVE Cap so much, and I am willing to wait in line for HOURS just to meet him and get his autograph, at which point I will probably start sobbing hysterically.
#3 Meet ALL the princesses/princes
I will hunt down every single freakin' princess in the park. I'm not kidding. Especially Tiana/Naveen, Rapunzel/Eugene, and Mulan/Shang. I love those guys. My sister and I also plan on giving Ariel a dinglehopper!
#4 Ride 'It's a Small World'
This may seem incredibly dumb (probably because it is), but the last time I was in Disneyland, the ride was closed for repairs. I really want to ride it so I can sing along without dirty looks.
#5 Beat My Family at Buzz Lightyear and Toy Story Mania
I remember both these rides very vividly, and I remember the rush of winning. So why not unleash my competitive streak? I love games, and we actually own Toy Story Mania on our Wii.
This is an incomplete list, but I'll have more as I get closer to the 25th!