She's alluring. She's mysterious. She's Bandette, the world's best thief. For those of you who haven't read the webcomic or read Volume 1: Presto! This is an introduction to one of my favorite female characters. As always, the spoilers are strong with this one. 
Good Girls are Bad Girls
The best thing
 about Bandette? This sweet thief doesn't play by the rules. Not now, not ever. And why should she? After all, she's perfectly capable of working for the police, or for herself. As revealed in the first volume, she's got a whole stash of goodies just for herself. I love her spunk and witty banter with even the hardest of criminals.
The fighting scenes where she trades insults in equal measure with blows and punches are so funny! Her wit and fighting skills are untouchable. The matches between her and Matadori are the wittiest.
Matadori & Monsieur
"Do not be distracted by the cape! For it only obscures the terrible truth!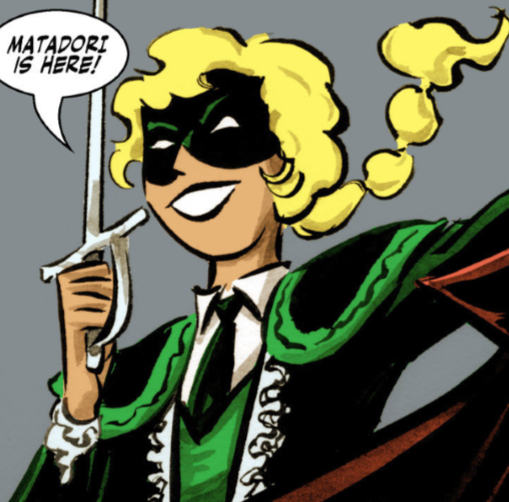 Matadori is here!" Matadori is almost like the sinister reflection of Bandette. She also engages in witty banter and is more interesting in finding a worthy opponent than actually killing something. I love her showy style and flashy green costume. Also, she eventually takes Bandette's side because FINIS tried to kill her. She's also like Bandette because she can't be controlled for long.
Monsieur is not a typical thief. He's not malicious or dangerous. He simply steals, and challenges Bandette as a thief. He's very polite, mysterious and charming. Almost like an older male Bandette.
Matadori, Bandette, and Monsieur all have one thing in common: they're very honorable thieves. They have their own set of rules and morals, but they follow them to the letter. They would never hurt an innocent for no reason. Even Matadori, who attempted to kill Bandette, later changes her mind about killing her.
Why I Love Bandette
No sexy shots. That's right ladies and gents, Bandette isn't full of smut and boob windows. To the contrary, Bandette and Matadori's costumes are free of skin-tight material, plunging necklines, high heels, or boob windows. It's refreshing.
Equal opportunity heroism/thievery. No one makes a great big deal about Bandette being a girl. It's more like, "There's this witty thief that's plaguing the city, and she happens to be a girl." Same with Matadori.
Cool story line. It doesn't feel recycled, or like anything I've ever read. It's fresh, original, and funny.
Sleek art style. I love the color palette, and how Bandette & Matadori seem to pop out from the background.
Witty dialogue. The constant chatter of Bandette, punctuated by choice swears, French, and "Presto!" really makes me laugh and improves the story.
Where to Find Bandette
If you're like me, you went to your local library's graphic novel section. Volume 1 is called Presto! Volume 2 is Stealers Keepers.
Volume 3 is The house of the green mask. Otherwise, you can find it online, since it was originally a web comic. Younger fangirls and boys, take heed. Though Bandette has no graphic sex, blood, or nudity, some of the characters are liberal with the swear words. If your parents are just as content-conscious as mine, they may not approve of the swears, so keep that in mind.
Ratings
Characters: 5/5
Dialogue: 4/5
Art: 5/5
Length: 3/5 (they're short)
Availability: 3/5
Size of fan base: I've no idea, I'm the only person I know who's read these.
To sum it up: Bandette is a great read for someone who's looking for an original storyline and heroine.